"His wife said to him, "Are you still maintaining your integrity? Curse God and die!" He replied, "You are talking like a foolish woman. Shall we accept good from God, and not trouble?" In all this, Job did not sin in what he said. When Job's three friends, Eliphaz the Temanite, Bildad the Shuhite and Zophar the Naamathite, heard about all the troubles that had come upon him, they set out from their homes and met together by agreement to go and sympathize with him and comfort him. When they saw him from a distance, they could hardly recognize him; they began to weep aloud, and they tore their robes and sprinkled dust on their heads. Then they sat on the ground with him for seven days and seven nights. No one said a word to him, because they saw how great his suffering was." – Job 2:9-13
I shared this story to the congregation when I preached last Sunday on bitterness.  I was hesitant at first but I realized that God can use such a tumultuous episode in our lives as a way to build and encourage others.  I know that He did it for me.  Such incredible pain can turn one who trusts in the Lord to someone useful for His kingdom.  I hope you see why as I recount such a harrowing experience…
When my wife was about 3 months pregnant with our youngest child, someone in her immediate family physically assaulted her during the funeral of her mother.  Ironically, it began with her attempt to have a civilized conversation with her attacker.  I wasn't there when this happened.  I knew about it because she called me [in tears] from a washroom where she decided to take refuge after her attacker decided to relentlessly pursue her even after the initial harm has been inflicted.
I try not to remember these events because these were moments that I felt unusually helpless and consuming anger ran through my veins.  I did remember falling prostrate on the floor after the phone call; helplessly crying out to God, "Lord, why did you let this happen?"  I cried for my wife and for our little baby (Naomi) inside of her.  I feared for the worst.  As I cried, I remembered my family – my parents, my sisters, and my brother who were not around when this happened.  There was literally no one around at that time to even give me a re-assuring embrace to let me know things will be okay.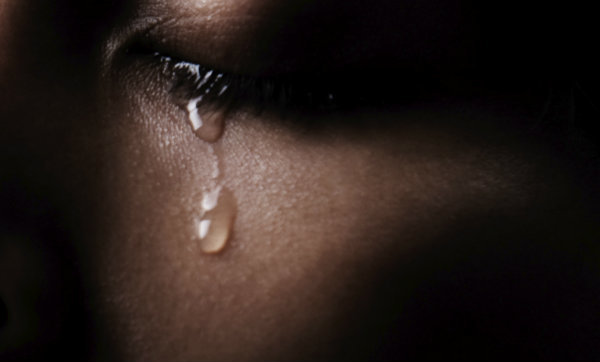 As I lay on the floor pouring out my heart to the Lord, the whisper of His voice rang out loud and a picture in my mind flashed of His arms around my shoulders as if telling me that He is near.  I hear Him crying with me but I never heard anything else.  God didn't have to say or do anything else.  His presence was sufficient to begin to soothe the emotional chaos that was going on inside of me.  David felt this (Psalm 145:17-19).  The sisters of Lazarus experienced this firsthand (Luke 11:33-35).
My wife and I continue to experience His healing as a result of these events.  God has used this trial to remind us that in turbulent, troubled times when we feel most alone, He is not only near but He is there crying with us and for us.
The image of the powerful Creator of this universe who can spend time to cry for one miserable soul should be enough to bring tears to our eyes.